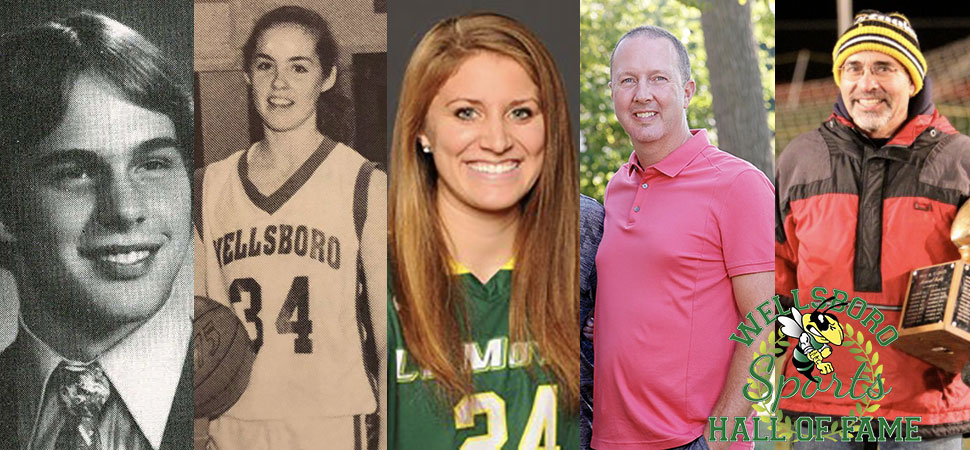 Five New Members Selected for Wellsboro Sports Hall of Fame
By: Ed Weaver / May 9, 2022
The Wellsboro Sports Hall of Fame committee is proud to announce its class of 2022.
The Class of 2022 is made up of 5 members, the first time since its inaugural class in 2016. This year's members include: Steve Radocaj, Janelle Tombs, Alex Marple, Ryan Callahan, and Coach John DeLeonardis.
Radocaj (football) participated in football, track, wrestling, and basketball. Radocaj was members of both the 1974 and 1977 NTL championship teams and earned All-Conference and All-Twin Tiers honors, and was selected to play in the Big 33 Football Classic, Wellsboro's only selection. As a member of the track team Radocaj set the school's javelin record and placed 3rd at the PIAA State Championships. After graduation Radocaj spent a year at Wyoming Seminary College Prep then attended Mansfield University. At Mansfield, Radocaj was a four-year starter, set multiple school tackle records, and earned All-Conference, All-Region, and All-American honors, and was selected as Athlete of the Year twice. In 1996 Radocaj was inducted into Mansfield University's Athletic Hall of Fame. Radocaj would later go on to coach football and track at both Wellsboro and Williamsport, and spent multiple years as an assistant football coach at Lycoming College.
Tombs (girls basketball) is a 1996 graduate who participated and earned four varsity letters in both cross country and basketball. In her freshman and sophomore years she earned two varsity letters in track, while in her junior and senior years she earned two varsity letters in softball. She scored 1,315 points during her career (2nd all-time), with a personal game-high of 33 points. She still holds the record for most three-pointers in a season and the most in a regulation game. She was a three-time Northern Tier League team member and a two-time All-Twin Tiers team member. She was also the 1995-96 Shelly Taynton Memorial Award recipient.
Marple (girls basketball) was named the John Antoine Prevost Female Athlete of the Year in 2011. Marple was a three sport athlete all four years of high school. She was a two-year starter in volleyball and a four-year starter in basketball, where she scored 1,311 career points, which ranks 3rd all-time in Wellsboro history. After graduation Marple attended Division II Le Moyne College in Syracuse and played women's basketball. During her career she scored 1,234 points, started 85-of-111 games, and was captain and MVP in her senior year.
Callahan (baseball) graduated with honors from Wellsboro in 1994, where he received 14 Varsity letters in baseball, basketball, track, and cross country and was awarded the Outstanding Male Athlete. In 1989, Ryan pitched a "no hitter" striking out 20 of the 21 outs and is currently the 2nd all-time leading boys basketball scorer with 1,713 points. After graduation Ryan received a scholarship to play baseball and Division I Ohio University. He led the team in 1996 with 5 triples and was in the top 3 in hitting with a .380 average. In 1997 Ohio was Mid American Conference champions and participated in the College World Series.
DeLeonardis (coach) is originally from Wilkinsburg (Pittsburgh area), graduating in 1971. In school he participated in football, cross country, and track, with track being his primary sport. Coach Dee attended Millersville University where he ran track until his junior year. He broke records in the 40-, 60-, 100-, and 220-yard dash in college, and currently holds the record in the 100-yard dash. After college, Coach Dee migrated to Wellsboro where he taught at the Charlotte Lappla Elementary School for 34 years, before retiring in 2009. Coach Dee has done stats for multiple Wellsboro athletic programs, most notably he spent 21 years as the football team's main statistician. He has also been a volleyball official, has volunteered with Wellsboro's track sprinters since 2005, and was the district's Strength and Conditioning Coach for 14.5 years.
The Wellsboro Sports Hall of Fame Class of 2022 will be inducted on Friday, September 16, 2022, at halftime of the Wellsboro-Athens football game.