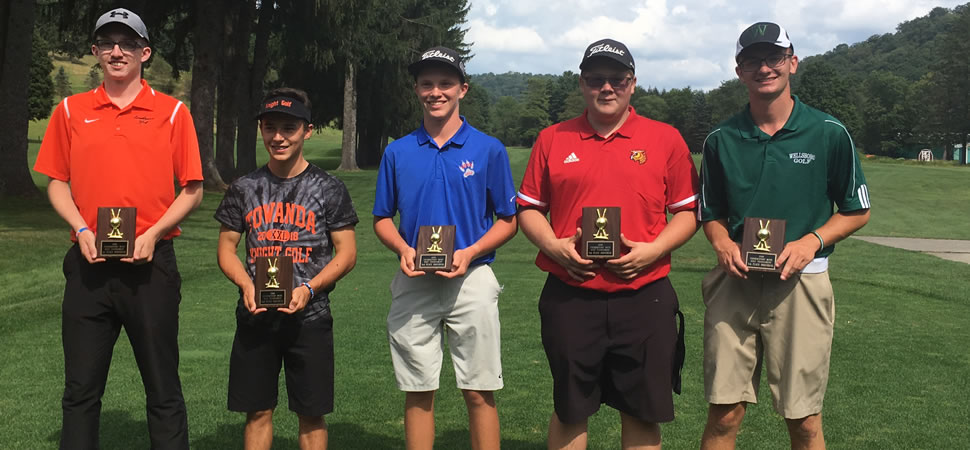 Hornets Golfers take 2nd at Coudersport Invite
By: Ed Weaver / August 16, 2019 / Photo: Steve Macensky
The Wellsboro Golf team started the 2019 season with a 2nd place overall finish at the Coudersport Invite on Thursday, August 17.
"It was good to get a round under our belts," said head coach Steve Macensky. "I believe all of their scores were a little higher than they were anticipating. We have some things to work on before next Tuesday, our first NTL match.
"It was still a good day, we finished 2nd overall, only three shots out of 1st. We had two kids tied for 4th overall. There was a playoff for the top 5, with Ty and Joe in it. Unfortunately, only Ty was able to come out on top to receive a plaque. I think we are in a good spot. We will be ready."
The Hornets (261) finished 3 strokes behind Smethport (258) and ahead of Bradford (266) and Kane. NTL rival North Penn-Mansfield rounded out the top 5 with a team score of 269.
Senior Ty Morral led the Hornets on the afternoon, and along with fellow senior Joseph Propheta, the two finished tied for 4th with rounds of 84 along with Bradford's Joe Gorse. Morral won the playoff with Propheta to finish 5th overall.
Junior Brock Hamblin carded a round of 93, senior Ethan Blakley shot 97, and senior Daniel Mitchell shot 100 to round out the scorers for Wellsboro.
The Hornets are back in action on Tuesday, August 20 with the rest of the Northern Tier League at Shepard Hills in Waverly, NY.